Zaynê Akyol's film ROJEK in the running for the Oscars®!
We were delighted and proud to hear this incredible news:
ROJEK, the documentary by our member Zaynê Akyol, has been selected by a pan-Canadian Selection Committee to represent Canada in the race for the Oscar® for Best International Film!
That a documentary - a first! - by a woman is selected highlights the strength and quality of documentary filmmaking, and underscores how women directors are distinguishing themselves both here and internationally.
Let's join Zaynê Akyol and her team in celebrating this recognition, which is worthy of this deeply moving, immensely courageous and cinematically powerful work.

ROJEK in a bottle in the sea
Read an article by Odile Tremblay in Le Devoir:
(Translated from French) « To have chosen ROJEK, by the young Quebecer of Kurdish origin Zaynê Akyol, to carry the colors of the maple leaf in the race for the Oscar for best international film is like a fist on the table. Favoring documentary over fiction is proving to be such an exceptional phenomenon that it deserves to be marked with a white stone. »
(Only available in French)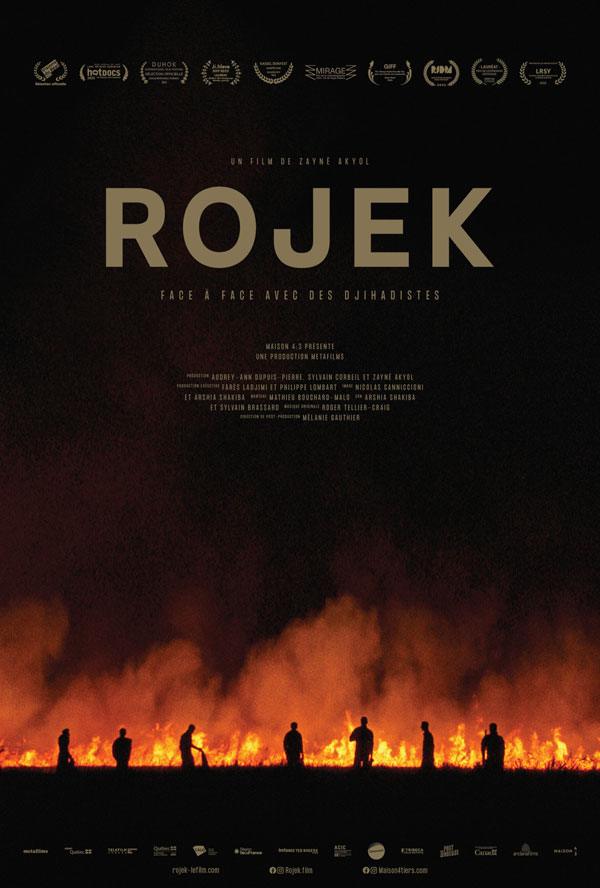 ROJEK


Documentary, 127 min, English, German, Arab, kurd, English subtitles, 2022
ROJEK meets incarcerated members of the Islamic State, and their wives detained in prison camps, from all over the world and sharing a common ideal: to establish a caliphate. Confronted with the fundamentalist beliefs of the jihadists, the film attempts to trace the beginning, the rise and the fall of the Islamic State (IS) through their personal stories. These conversations constitute the common thread of the documentary through which various sequences describing post-war Syrian Kurdistan intertwine.
ROJEK offers an intimate look at an unknown reality, bearing witness to pivotal moments experienced by the actors of this conflict. The film discusses how this ideological war is only the beginning of a new threat.
Interview with Zaynê Akyol
For a sneak preview, take a look at this clip we produced for the January 2023 release of ROJEK. Zaynê talks about her film with Nadia Zouaoui.
Directed by Émilie Baillargeon.
(Available in French only)