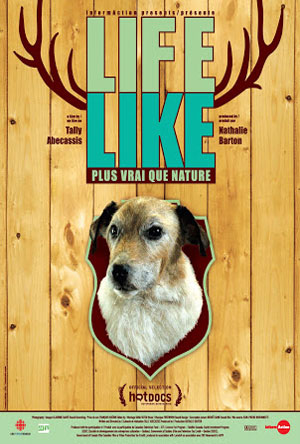 Other films in the same categories :
Lifelike

Documentaire
52 min
anglais
2005
Lifelike explores the fascinating and increasingly-mainstream world of stuffing and mounting dead animals. From our clichéd notions about the world of hunting to wacky impressions of pet taxidermy, this documentary will take you to meet engaging characters deep in the heart of this curious activity. Funny, touching, and sometimes just plain absurd, Lifelike will make you think twice about human nature and our relationship with animals.
s.-t. français: Plus vrai que nature
Directed by :
Awards and recognition : Nomination, Best Science/Nature Documentary, Gemini Awards
Nomination, Best Photography – Documentary, Gemini Awards
Nomination, Best Editing – Documentary, Gemini Awards
Finalist, Pierre and Yolande Perrault Prize (Best emerging documentary director), RVCQ
Distribution : InformAction Films Inc.
Diffusion : CBC Newsworld, ARTV, RIDM, HOT DOCS, South by SouthWest Film Festival, RVCQ