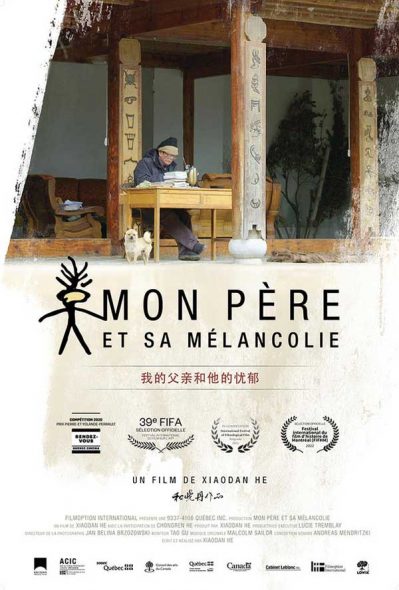 Other films in the same categories :
Mon père et sa mélancolie – 我的父亲和他的忧郁

Documentaire
78 min
mandarin, naxi, s.-t. français
2021
Chongren He was born in 1936, in Li Jiang, a small town on the Tibetan border. He is a descendant of the Naxi, one of the fifty-six Chinese minorities with a population of 300,000. What makes the Naxi people unique is their ancient Dongba culture preserved in millennia-old pictographs. Their pictograph is the only one still in use in the world today and is called the "living fossil".
Under the constant pressures of politics and assimilation by the dominant Chinese culture, he now lives in a small village like on an isolated island surrounded by endless waves of tourists. The film seeks to understand how an 82-year-old man managed to build his own spiritual castle in order to protect himself and his fragile but precious culture.
s.-t. anglais: My Father's Journey
Directed by :
Awards and recognition : Prix Pierre et Yolande Perrault, Rendez-vous Québec Cinéma (RVQC)
Distribution : Filmoption international
Diffusion : Festival international du film sur l'art (FIFA)
Rendez-vous Québec Cinéma (RVQC)
Toronto documentary feature and short film festival
Toronto Indie Filmmakers Festival
Festival international du film d'histoire de Montréal (FIFHM)
International Festival of Ethnological Film, Belgrade - Serbie
Seoul International short Film Festival - Corée du sud
Production : Une production de Red Dawn