Amy Miller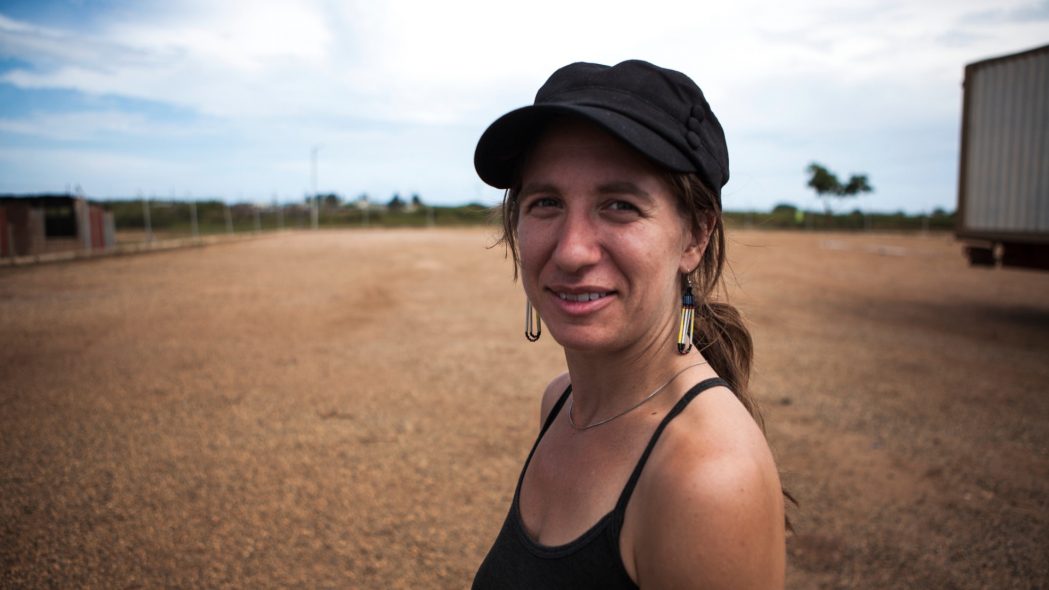 Online cinema
Filmography
Tomorrow's Power


documentaire, 85 min, v.o. anglais, 2017
Le pouvoir de demain


documentaire, 85 min, v.o. anglais, 2017
Des activistes locaux de Gaza, d'Allemagne et de Colombie défient la dépendance aux combustibles fossiles et les structures de pouvoir dans leur lutte pour la justice sociale et climatique. Thème : environnement

Distribution : Multi-Monde
---
No Land. No Food. No Life.



documentaire, 77 min, v.o. anglais, 2013
Sans terre, c'est la faim



documentaire, 77 min, v.o. anglais, 2013
Sans terre, c'est la faim est un film coup de poing qui explore le revers du phénomène mondial d'accaparement de terres à des fins industrielles et le mérite d'une agriculture durable à petite échelle. Il donne voix à des fermiers directement touchés par la saisie de leur terre et présente des images chocs de communautés en pleine lutte contre la mainmise de leurs terres. Theme : agriculture

Finaliste, Prix Gémeaux 2014: Meilleur documentaire Société
Grand Prix Global South, Festival del Terre
Finaliste, Social Justice Oxfam IDFA Award
Mention spéciale du jury, FFPE
Distribution : Cinéfête, Journeyman Picture
Diffusion: plus de 40 festivals dans le monde
---
The Carbon Rush



documentaire, 85 min, v.o. anglais, 2012
La ruée vers le carbone


documentaire, 85 min, v.o. anglais avec s.t. français, 2012
The Carbon Rush takes an up-close look at the framework that is being used to reduce carbon and investigates whether or not offsets are distracting us from what's really required to tackle the climate crisis. Who will gain, who will lose, and what impact is an international carbon market having on our environment? Theme: environment

Special mention, Best Political Film, Cinema Politica Network, 2013
Best Original Screenplay for feature doc., Serbie, 17th Annual MEFEST, 2013
Award of Merit, The Indie Festival, La Jolla, California, USA, 2012
Prix du Vautour, Festival Film, Recherche et Développement Durable (FREDD), Toulouse, France 2015
Best feature film, Barichara Environmental Film Festival, Colombia, 2014
Distribution: KinoSmith, Multi-Monde
Diffusions: plus de 80 festivals dans le monde
---
Myths For Profit: Canada's Role in Industries of War and Peace



documentaire, 58 min, v.o. anglais, 2009
Des mensonges payants, le rôle du Canada dans les industries de la guerre et de la paix


documentaire, 58 min, v.o. anglais, 2009
Le Canada, le « plus meilleur pays du monde », est neutre et son armée en est une de maintien de la paix. C'est ce discours officiel que le film militant d'Amy Miller démolit point par point. À l'aide d'entrevues d'auteurs, de journalistes et d'activistes pacifistes et de séquences animées à l'humour corrosif, la cinéaste donne un cours de base de géopolitique – de la création de l'OTAN en 1949 à la guerre en Afghanistan, en passant par celle du Kosovo – au terme duquel la preuve est faite que le Canada n'est pas le modèle de neutralité qu'on essaye de nous vendre. Theme : economy

Peoples Choice Award, Bay Street Film Festival, 2009
Diffusion: plus de 35 festivals dans le monde.
---
Outside of Europe
documentaire, 28 min, v.o. anglais, 2008
Examines exclusionary nature of European Union immigration policies, migration and detention centres. Theme : immigration

Peoples Choice Award, Migration Contest, CBC-RCI 2008
Diffusion: plus de 20 festivals dans le monde.
BIOGRAPHY
Amy Miller is an award-winning filmmaker and social justice organizer based in Montréal. Her documentaries have been screened in festivals throughout the world, spanning all continents, and have been broadcast in over two dozen countries.
AREAS OF ACTIVITY
Documentaire
Moyen métrage, Long métrage
Film, Télévision
EMAIL
amy@resist.ca
WEB SITE
amymiller.info
USEFUL REFERENCES AND LINKS
Site du film Tomorrow's Power
Site de Wide Open Exposure
Site du film No Land. No Food. No Life.