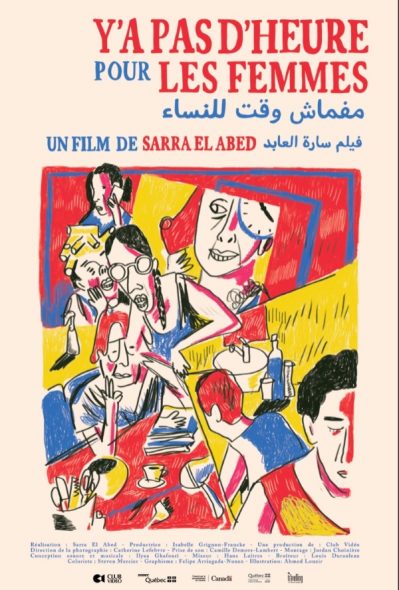 Other films in the same categories :
Y'a pas d'heure pour les femmes

Documentaire
19 min
Arabe
2020
Sarra El Abed finished her degree in film direction at UQAM in 2018, where she was awarded the best fiction prize for her graduation project. Ain't no time for women is her fourth film. Flirting between fiction and documentary filmmaking, she likes to breathe whimsy into the ordinary and comedy into dramatic situations.
s.-t. français:
Directed by :
Awards and recognition : Hot Docs | 2021 | Compétition Officielle *Best Canadian Short
Off-Court Trouville | 2021| Compétition Officielle *Prix du Meilleur Court-Métrage Québecois et Prix du Public
Regard sur le court métrage au Saguenay | 2021 | Compétition Officielle | * Prix du Jury International FIPRESCI
RIDM, Montréal |2020| Compétition Officielle *Prix soirée de la relève
DOXA Documentary Film Festival | 2021| Compétition Officielle *Best Short Documentary Award
Breakthroughs Film Festival | 2021| Compétition Officielle *Best Canadian Film Award
Longue Vue sur le Court, Montréal |2020| Compétition Officielle *Prix coup de coeur du jury
Filministes, Montréal |2021| Compétition Officielle *Meilleur court métrage documentaire
Distribution : Travelling
Diffusion : Festival du court-métrage de Clermont-Ferrand - Palm Springs Festival - Dok Leipzig - Slamdance Festival - Indie Lisboa
Production : Club Vidéo - Isabelle Grignon-Francke