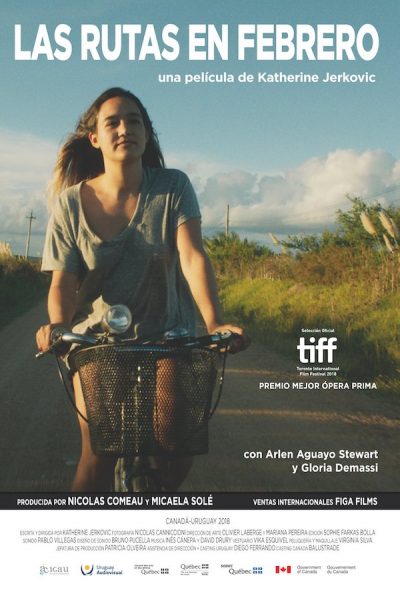 Other films in the same categories :
Las Rutas en Febrero

Fiction
Drame
84 min
Espagnol
2018
Driven by childhood memories and the hope of a reencounter, Sarah visits her paternal grandmother in her village in Uruguay. She takes long to understand the prevailing unease… But she is soon faced with the gap between her fantasy regarding the place of origin and that village of old people forgotten by Modernity where the heat is overwhelming and the days seem to last forever. Cultural shock, humor and sadness give shape to this bitter-sweet film.
v. anglaise: Las Rutas en febrero

Directed by :
Awards and recognition : Prix du Meilleur premier long métrage canadien (Toronto International Film Festival)
Prix « One to Watch » du meilleur premier long métrage canadien (Vancouver Film Critics Circle)
Prix de la meilleure actrice canadienne dans un premier rôle (Vancouver Film Critics Circle)
Canada's TOP TEN du TIFF
Prix d'interprétation Gloria Demassi (Festival international de films de Punta del Este, Uruguay)
Mention honorable (Festival de la frontière, Uruguay/Brésil)
Distribution : Axia Films
Diffusion : Première mondiale au TIFF (Toronto International Film festival) - Vancouver international film festival | VIFF - Festival du nouveau cinéma de Montréal | FNC - South Western international Film Festival | SWFF -Première internationale à PÖFF | Tallinn Black Nights (Estonie) - Mannheim-Heidelberg Filmfest (Allemagne) - Festival de nuevo cine latinoamericano de La Habana - Festival de films de Göteborg (Suède) - Festival internacional de cine de Punta del Este (Uruguay) - Festival international de films de Miami (ÉÉ-UU) - Malaga Film Festival (Spain) - Festival de cinéma latino-américain de Chicago (USA) - Festival de cinéma latino-américain d'Ottawa (Canada) - Festival de cinéma latino-américain de Quito (Equateur) - Vancouver Latin American Film Festival (Canada) - Festival de cinéma latino-américain Mira pa'ca (Buenos Aires, Argentine) - Rendez-vous du cinéma québécois (RVCQ, Montréal)