Ava
en présence de Sadaf Foroughi
★ Sadaf Foroughi ★
partagera « trois histoires vraies » avant la projection de son film
Ava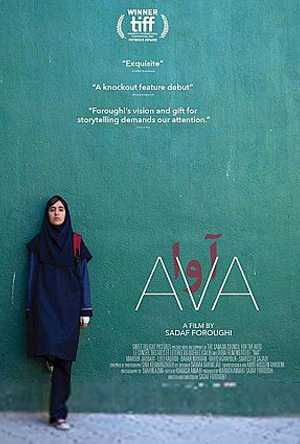 gagnant du meilleur premier long métrage aux prix Écrans canadiens 2018
Jeudi 27 septembre 2018 à 19h30
Ouverture des portes à 19h00
À l'ARRQ - 5154, rue Saint-Hubert, Métro Laurier
Contribution volontaire suggérée 5$
Vin, bière, grignotines*
* à noter que le ciné-club ne sert plus de grilled cheese, mais des croustilles et popcorn

RSVP avant le 26 septembre 2018
[email protected]
ou en participant à l'événement Facebook
Bienvenue à tous!
(tous genres, réalisateurs ou non, membres et non-membres)
Enregistrer
Enregistrer
Enregistrer
Enregistrer
Ava (Fiction, 2017, 103 minutes)
Présenté en version originale (persan) avec sous-titres anglais
Ava est le récit universel de passage vers l'âge adulte où la confiance entre une adolescente iranienne de 16 ans et ses parents est mise à rude épreuve après une troublante visite chez le gynécologue. Derrière la brûlante quête intérieure d'Ava qui tente de s'affranchir à la fois de l'autorité parentale et de fondements socioculturels profondément ancrés et régulés, le film critique une société qui abîme la fougue et la passion des jeunes filles à l'âge où elles sont le plus vulnérables.

Ava a été présenté en première mondiale au Festival international du film de Toronto (TIFF) en 2017 où il a reçu une mention honorable du meilleur premier long métrage Canadien ainsi que le Prix de la Fédération internationale de la presse cinématographique (FIPRESCI) dans la section Découverte. Avec 8 nominations aux prix Écrans Canadiens, Ava a obtenu le prix du meilleur premier long métrage de l'année 2018 et du meilleur rôle de soutien féminin.
Ava (Fiction, 2017, 103 minutes)
Presented in original version (Persian) with English subtitles
Ava's first visit to the gynaecologist with her mother is a traumatic experience for the
16-year-old young woman. Trauma gives way to anger when Ava discovers her mother's dishonesty and learns about the rules she broke, when she was Ava's current age. Bewildered and enraged, Ava attempts and fails suicide at school. To avoid being expelled, she accepts a deal to snitch on her classmates, but a guilty conscience is a heavy burden. Misunderstood by her parents and tormented by school, Ava decides upon a third way forward.

Ava premiered at the Toronto International Film Festival in 2017 and was given a honourable mention as the best Canadian debut feature film. It awarded the Discovery Section FIPRESCI Prize (International Federation of Film Critics). With 8 nominations in Canadian Screen Awards, AVA had the honour to be awarded the best first film of the year 2018, as well as the best supporting actress.
Née à Téhéran en Iran en 1976, Sadaf Foroughi est cinéaste, photographe et artiste de la vidéo. Elle vit et travaille maintenant à Montréal. Son travail a été montré dans plusieurs festivals et centres culturels internationaux dont Berlin, Istanbul et Cannes. Elle est détentrice d'un doctorat en philosophie du cinéma de l'Université de Provence, d'une maîtrise en littérature de l'Université Azad de Téhéran et d'un diplôme en production cinématographique de la New York Film Academy. Elle a coécrit, coproduit et joué dans le long métrage The Pot and the Oak (2017), qui a été présenté en première mondiale au Festival international du film de Rotterdam. Ava est son premier long métrage à titre de scénariste-réalisatrice.

Sadaf Foroughi is an Iranian-Canadian, Montreal-based filmmaker. In addition to being a filmmaker, she is a photographer and video artist. Her work has been shown at many international festivals and art centers, such as Berlin, Istanbul and Cannes. She completed a PhD in the philosophy of cinema at the University of Provence. She holds a Master's in literature from the University of Azad in Teheran, and obtained a degree in film production from the New York Film Academy. She co-wrote, co-produced, and appeared in Kiarash Anvari's feature film 'The Pot and the Oak' (2017), which had its world premiere at the International Film Festival Rotterdam. Ava is her first feature film as a writer-director.
LES DAMES DES VUES : Une fois par mois, un film et une réalisatrice qui ont marqué l'histoire du cinéma du Québec vous sont présentés à notre Ciné-club. Une complicité de Réalisatrices Équitables et l'ARRQ. Depuis 2007, Réalisatrices Équitables sensibilise le milieu, les institutions et le public à l'importance de la vision des femmes cinéastes au Québec et travaille à faire en sorte qu'une place plus juste soit accordée aux préoccupations, à la vision du monde et à l'imaginaire des femmes sur tous nos écrans.