The Company of Strangers
en présence de Cynthia Scott
Réalisatrices Équitables et
l'Association des Réalisateurs et Réalisatrices du Québec (ARRQ)
vous invitent au
Ciné-club LES DAMES DES VUES
★ Cynthia Scott ★
partagera « trois histoires vraies » avant la projection de son film
The Company of Strangers
(Présenté en version originale anglaise)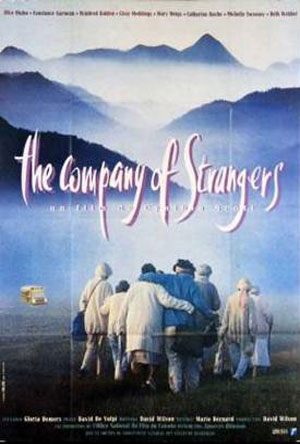 Jeudi 26 octobre 2017 à 19h30
Ouverture des portes à 19h00
À l'ARRQ - 5154, rue Saint-Hubert, Métro Laurier
Contribution volontaire suggérée 5$
Vin, bière et grilled-cheese au fer à repasser

RSVP avant le 25 octobre 2017
realisatrices.confirmation@gmail.com
ou en participant à l'événement Facebook
Bienvenue à tous!
(tous genres, réalisateurs ou non, membres et non-membres)
Enregistrer
Enregistrer
Enregistrer
Enregistrer
The Company of Strangers (1990, 101 minutes)
Présenté en version originale anglaise.
Dans ce long métrage de fiction, 7 femmes âgées se retrouvent prises au dépourvu lorsque leur autobus tombe en panne. Forcées d'unir leurs talents et leur ingéniosité pour organiser un séjour improvisé dans une maison abandonnée, elles apprendront à se connaître et deviendront rapidement complices. Avec des actrices non-professionnelles et des dialogues improvisés, ce film brouille les frontières entre la fiction et la réalité, et nous présente une réjouissante histoire de courage et d'amitié.
English
In this feature film, 7 elderly women find themselves stranded when their bus breaks down in the wilderness. With only their wits, memories and some roasted frogs' legs to sustain them, this remarkable group of strangers share their life stories and turn a potential crisis into a magical time of humour, spirit and camaraderie. Featuring non-professional actors and unscripted dialogue, this film dissolves the barrier between fiction and reality, weaving a heart-warming tale of friendship and courage.
Née en 1939 à Winnipeg au Manitoba, Cynthia Scott a travaillé comme scénariste, productrice, monteuse et réalisatrice, entre autres à l'ONF. Son intérêt particulier pour l'histoire des gens "ordinaires" l'a menée à la réalisation des documentaires. Cynthia Scott est récipiendaire de l'Oscar du meilleur court métrage documentaire de 1984 pour son film Flamenco à 5h15.
English
Cynthia Scott is the 1984 Oscar winner for Best Short Documentary for her film Flamenco at 5:15. Born in Winnipeg, Manitoba in 1939 , she has worked as a scriptwriter, producer, editor and director, mainly at the NFB. Cynthia Scott has a strong interest in "ordinary people" stories, and this is the reason why she has mainly directed documentaries.
LES DAMES DES VUES : Une fois par mois, un film et une réalisatrice qui ont marqué l'histoire du cinéma du Québec vous sont présentés à notre Ciné-club. Une complicité de Réalisatrices Équitables et l'ARRQ. Depuis 2007, Réalisatrices Équitables sensibilise le milieu, les institutions et le public à l'importance de la vision des femmes cinéastes au Québec et travaille à faire en sorte qu'une place plus juste soit accordée aux préoccupations, à la vision du monde et à l'imaginaire des femmes sur tous nos écrans.