Women Documentary Filmmakers: A Portrait in Numbers

WOMEN'S PLACE IN PUBLIC FINANCING OF QUÉBEC DOCUMENTARIES [2]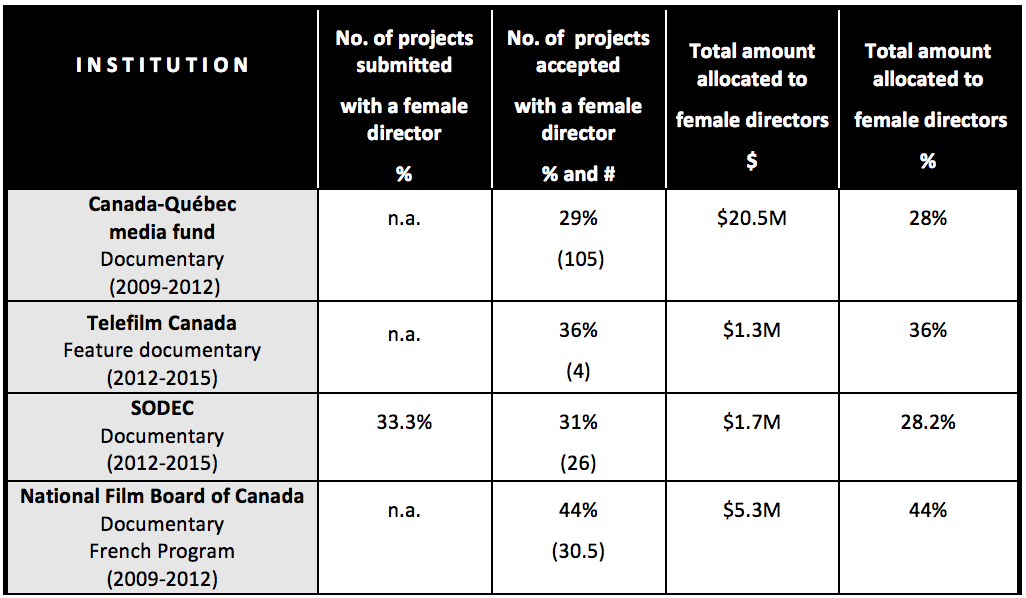 A question of public commitment
by Lucette Lupien and Sophie Bisonnette
In the ecosystem of film and television production, the documentary is a fragile species. Doc Canada states in its 2013 report, Toute la vérité: "The decline in Canadian documentary production… is real. Jobs are disappearing. Professionals are leaving the field. Projects never get past the development phase, if they make it that far! Financing has shrunk, and in some cases, completely disappeared."
Indeed, it is clear that documentary production budgets, already much smaller than those of feature films, are decreasing annually. Cuts to culture and public broadcasting budgets have hit the one-off documentary particularly hard, and the genre has seen its place on our screens melt away.
Yet the popularity of documentaries is real. The upcoming generation of filmmakers is very strong. Public interest can be seen in full houses at festivals like the RIDM, film tours in small repertory theatres, and the circulation of documentaries in educational and community networks.
Despite the increasing importance of new platforms, for now, television remains the main outlet for documentary production and consumption. It is also the gateway to public funding. The Canada Media Fund remains the most important funder of documentaries.
How do women documentary filmmakers fare in this context?
We should keep in mind that women's interest in film and television jobs is unfailing. Young women make up 43 to 60 % of the student population in Québec's main film and television schools. 48% of students in INIS's documentary program are women, as are 60% of students admitted to UQÀM's bachelor program in television (2007 to 2011), and 53% of students admitted to the CEPEG de Jonquière's television production and post-production program (2003 to 2012). 43% of students admitted to UQÀM's bachelor program in film and Concordia's Mel Hoppenheim School of Cinema's bachelor program (2002 to 2007) are also women[1].
While it is true that female documentary filmmakers obtain a larger portion of public funding than their counterparts in feature films, they are still far from achieving parity with their male colleagues, as shown by the following table.
On a more encouraging note, since 2015, BravoFact, which finances short documentary and feature production, allocates at least 50% of its funds to projects initiated by women directors and producers, in perpetuity[3].
While the barriers faced by female filmmakers begin with access to funding, specifically public funding, they continue to be felt in the distribution process. One of the leading documentary film festivals, the International Documentary Film Festival Amsterdam, recently delivered its mea culpa after publishing a study[4] revealing that the number of films made by women, selected for the festival between 2003 and 2013, never exceeded one third (33.2%) of all the films presented. Armed with this new awareness, the festival succeeded in increasing this ratio to 41% in 2014.
---
[1] See data collected by Francine Descarries and Marie-Julie Garneau in La place des réalisatrices dans le financement public du cinéma et de la télévision du Québec. (Réalisatrices Équitables, IREF, ARRQ) and Anne Marie Laurin and Anouk Bélanger in Les réalisatrices du petit écran (ARRQ, Services aux collectivités de l'UQÀM).
[2] Source: The data in this table was provided by the institutions themselves at our request. Data published on the Canada Council for the Arts and the Conseil des arts et des lettres du Québec websites does not distinguish between feature films and documentaries.
[3] http://www.bravofact.com/about-bravofact/
[4] https://www.idfa.nl/industry/daily/2014/in-depth/the-female-gaze-idfa-statistics.aspx